Create report-like filters to facilitate studying your data every time you use Insights.
To be able to re-use a filter every time you log into Insights you can use the Save As option. First enter the filter condition(s) that you want to use and then press Save as in the Filter Actions drop-down. If you use a saved filter it will always be applied on the data interval you have chosen in the top right corner.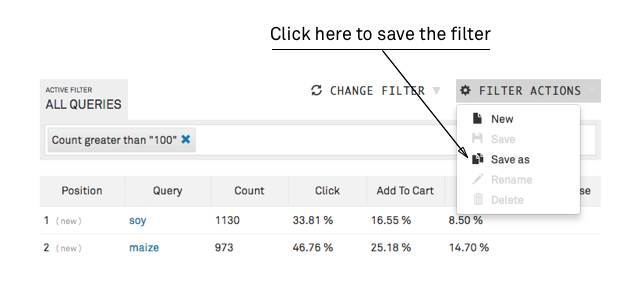 ​When you have saved the filter it will show up in the Change Filter drop-down.
Examples on filters to use
"Queries that the engine doesn't understand"
When the search engine doesn't understand a query made by a visitor it will signal it by putting a MakeSense = No flag on the search query.
To create a "Queries that the engine doesn't understand" filter:
Click on the filter box and scroll down to MakeSense
Pick Equals to
Pick No
Click on Save As in the Filter Actions drop-down
"Queries with low conversion rate"
To study what popular queries you have received that aren't converting good enough you can create a filter that looks at the combination between the number of queries (count) and purchases.
Pick Purchase in the filter box
Pick less than and chose a relevant number for what signifies low conversion to you (e.g. 1%)
Combine with Count, more than and a relevant amount of queries made (e.g. 500)
​
If you are missing purchase-events in Insights please contact support.
​